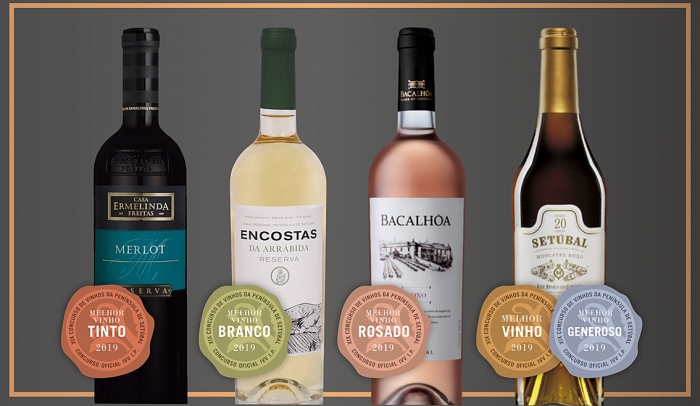 201 wines from 33 producers participated in the contest. Once the results were established, 60 medals emerged - 20 Gold and 40 Silver. Highlight for the most awarded wines of the contest ('The Best'), José Maria da Fonseca 20 years, who received two awards Best Wine for the Contest and Best Fortified Wine. Casa Ermelinda Freitas won the Best Red Wine medal with its Merlot Reserva 2016. The Best White Wine was awarded to the Arrábida Reserva 2017, from the Cooperativa Agrícola de Santo Isidro de Pegões. Finally, the Best Pink Wine award went to Bacalhôa Roxo - 2017, from Bacalhôa Vinhos de Portugal.
The complete list can be found on the respective page of the website of the Regional Wine Commission of the Setúbal Peninsula (CVRPS). The jury was composed of a diverse range of jurors, professionals related to the world of wines and their sensorial analysis in particular, which involved oenology teachers, experts in sensorial analysis of wine regions, oenologists, sommeliers, specialized journalists and members of the ASAE test panel.
According to Henrique Soares, President of the CVRPS, "the XIX edition enshrines another strong cycle of growth in the region (two digits in 2017 and 2018), but also the development and consolidation of new projects, with 2018 as the year in which the volume of certified wines originated from the largest number of producers ever: 60, in projects extending from Montijo to Sines. "
Meanwhile, sales of wines from the Setúbal Peninsula continue to grow in the national market and in exports. In Portugal, according to the latest data from the consultancy Nielsen, the Peninsula of Setúbal remains the third wine region of preference of the Portuguese.
Your comment has been sent successfully. Thanks for comment!
Leave a Comment
Facebook comments