List of products by brand DFJ Vinhos
In 2008, ten years after its founding, DFJ Vinhos is proud of the way it has traveled: it has become the Portuguese company holding one of the largest shares in the English market, equivalent to 1.5 million bottles exported annually.

Curiously, and despite the size of its average annual production - six million bottles - DFJ has no vineyards, only vinifica, and get the raw material to the partnerships established with several winemakers in the country.
DFJ's largest partnership is with Rui Abreu Correia and Herdeiros, the family company of Eng. José Neiva Correia, which has 200 hectares of vineyards in production in the region of Lisbon. The quinta of Porto Franco is the most important, because of its size, because there is the winemaking center for more than 2 million liters, and because it was where José Neiva Correia was born.

0 review

0 review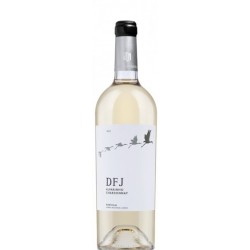 0 review